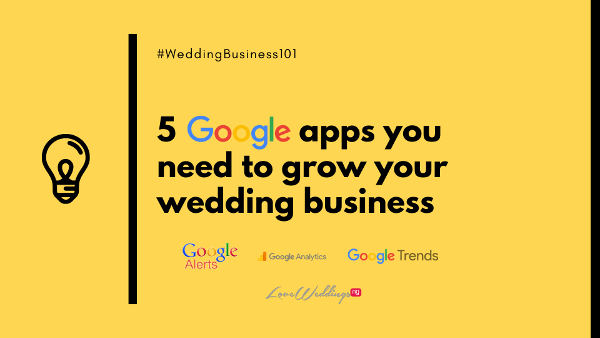 As a small business owner, I've had my fair share of challenges and one company that I keep going back to whenever I'm stuck is Google. Most people use Google as a search tool and leave it at that but for businesses, there are a lot of tools that you can use free of charge to help you grow your wedding business.
In this post, I'll share 5 Google apps and tools my team and I use at LoveWeddingsNG that we believe you can and should use too, in order to grow your wedding business or take it to the next level.
Enjoy!
1. Google Alerts: This should be the first thing every business owner sets up. Google Alerts is a content change detection and notification service, offered by Google. Once you set up Google Alerts, you receive emails whenever there's a new page, article, blog, etc on any website in the world about the search term you've created an alert for.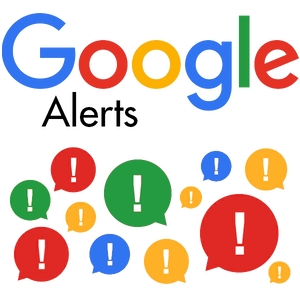 We have an alert set up for the terms 'LoveWeddingsNG', 'Love Weddings NG', 'LoveWeddings NG', etc so we receive an alert anytime anything is uploaded online about our brand. This helps make sure we're aware of what the world is saying about us so we can respond accordingly. We also have alerts set up for other search terms we're interested in finding out about so it's not just all about finding out what people are saying about your brand.
2. Google Analytics: Data is King and Queen; every business and/or business owner should constantly seek to understand the numbers that drive its Key Performance Indicators. Google Analytics, is a freemium web analytics service offered by Google that tracks and reports website traffic. With Google Analytics, you can tell where (e.g. city, country) your website traffic comes from, their age ranges, what content on your site your readers engage with, how long they spend on each page and more.

An example of a recent insight we found about LoveWeddingsNG, thanks to Google Analytics is that 31% of traffic to our website in the last year came from 'Opera Mini' browser. This is really important because a lot of businesses might make the assumption that most of their readers visit their website using popular browsers such as Chrome, Safari, Internet Explorer, Safari, Firefox, etc. With this insight, we've been able to add the 'Opera Mini' browser to our list of browsers that must be tested to ensure our website is working as it should and renders properly on our readers' devices regardless of what browser, device or operating system they use when they visit our website.
3. Google Digital Garage: As an ambassador of Google's Digital Garage, I'll be doing this post injustice if I don't promote this fantastic tool by Google. The Digital Garage is a free online marketing training to get the digital skills you need to grow your business and career. In case you missed it, I visited the Digital Garage in 2014 and got specific help with LoveWeddingsNG that helped us grow our business online. Watch the short film below, which tells you about how my visit transformed our business for the better.
I'll highly recommend taking the courses online, which covers everything from Search Engine Optimisation, Search Engine Marketing, Pay Per Click and so much more.
4. Google My Business: With Google My Business, you can list your business for free and this helps you start building visibility online (especially on Google Maps and Google Search). If you're listed on Google My Business; your company details appear on Page 1 in Google Search when people google your company name. See an example below when we searched for top Nigerian wedding planning company, TrendyBE Events.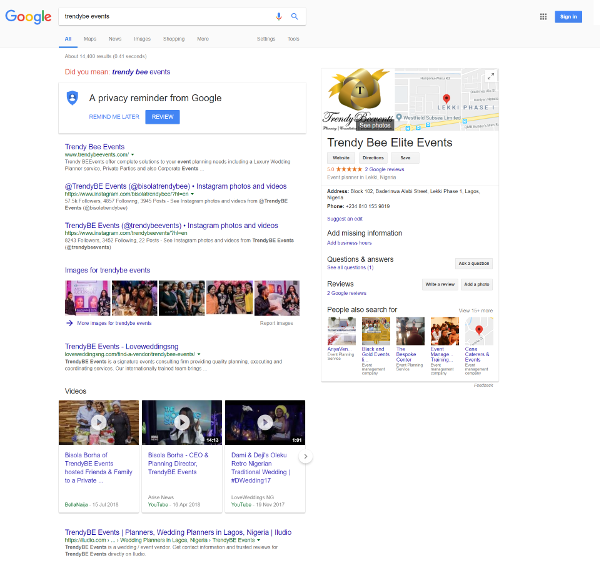 As shown in the example above, your Google My Business profile gives customers a snapshot view of your company and can include a list to your website, address, questions and answers, reviews, photos and videos, directions to your office and more. Just like you should when you list your company on any directory, you should ensure your details are kept up-to-date and make sure you showcase the very best content from your portfolio.
The pros: Your company appears on Page 1 of Google search. You also get local advantage so for example if you're a Nigerian based business and people search on Google.ng; your business (if its listed as a Nigerian based company) should come up above any other company that shares a similar name and is based in a different country.
The cons: Anyone can leave a review about your company and the reviews are public so if you get a bad review, everyone has access to it. There have also been incidents where false reviews are left on Google My Business. However, you have the opportunity to respond to every review and your response will also be public.
5. Google Trends: Just as the product name implies, Google Trends is a website that analyses the popularity of top search queries in Google Search across various regions and languages. The website uses graphs to compare the search volume of different queries over time. With this tool, you can tell how popular a search term is worldwide or in a specific country; you can also compare the popularity of search terms.
Here's an example of the results we got when we compared the following search terms 'nigerian weddings' and 'weddings in nigeria'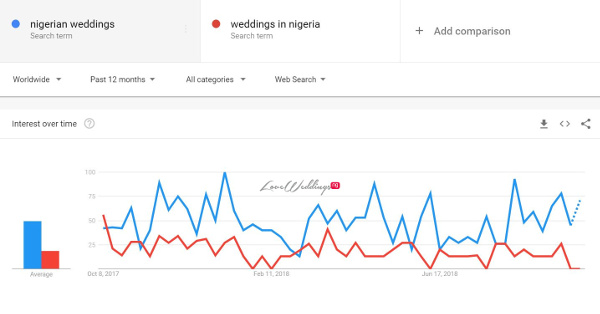 There are so many other fantastic Google apps and tools you can use to grow your wedding business from GMail, Google Drive, Google Plus to Google Calendar, Google Docs and more.