Like most people, we've all turned to Netflix in these times of self-isolation and social distancing, thanks to COVID19. We came across the new limited series titled 'Self Made: Inspired by the life of Madam C.J. Walker' starring Octavia Spencer, Tiffany Hadish on Netflix and couldn't believe how much we learned about business. The series is inspired by the true story of Madam C. J. Walker (born Sarah Breedlove), an American entrepreneur, philanthropist, political and social activist. She is recorded as the first female self-made millionaire in America in the Guinness Book of World Records.
We learnt so much that we had to put together our top 10 business lessons from this amazing and inspirational limited series. Enjoy!
Synopsis
An African American washerwoman rises from poverty to build a beauty empire and become the first female self–made millionaire. Based on a true story. According to Wikipedia, "Self Made tells "the untold and highly irreverent story of black hair care pioneer and mogul Madam C. J. Walker and how she overcame hostile turn-of-the-century America, epic rivalries, tumultuous marriages, and some trifling family to become America's first Black, self–made female millionaire."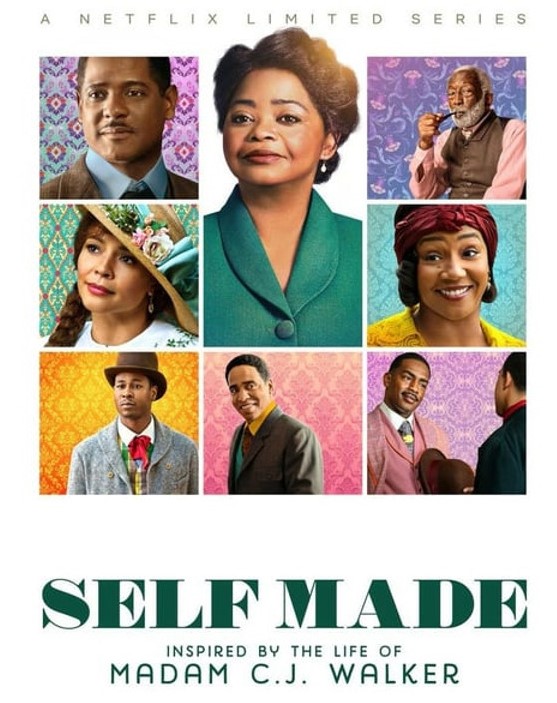 1. Tenacity: Madam C.J. Walker's (played by Octavia Spencer) tenacity was truly remarkable. In today's world where entrepreneurs get disheartened by little things like not getting enough likes on a post on Instagram; it's remarkable to see how resilient she was through every possible downturn that life threw her way. We're trying hard not to give you spoilers here but if you watch, you'll see there were countless opportunities for her to give up but she pressed on.
2. To grow your business, you need investment: We've heard a lot of wedding business owners and entrepreneurs decline investment offers because they just can't imagine sharing ownership of their baby business with anyone else. The reality is you can only go so far when you do it alone. To expand and maximize your potential, most times; you need to get help from people who can extend that dream and take it to places you've only ever dreamed of. However, as much as you'll be willing to take investment, it's important to be sure of the source of that investment. Do your due diligence.
3. On competition: It's so easy to get distracted because suddenly someone else appears to be doing something you are doing. The reality is in today's environment, there's hardly any product/service out there that hasn't been done before in some way, shape or form; and that's why it's important to have a clearly articulated vision of what your business is out to achieve. For Madam C.J. Walker, it was to make haircare affordable for every black woman and this informed the decisions and moves she made.
Once that's clear, you'll understand that even if there are 100 people offering a similar product, yours will always have its own edge so make sure you work hard at finding that competitive edge and make sure it's something that's commercially viable i.e. there needs to be a market for it – people need to be willing to pay for it. Its a good idea to constantly ask yourself if your product, service or offering is solving a problem that's big enough to warrant people to exchange it with their money.
4. Networking: Networking brought Madam Walker the opportunity to gain the investment she needed to build her factory. But she didn't network aimlessly. At every gala, meeting; there was a clear goal whether that was to get her products into the 10 cents store or to get funding, etc.
5. Recognizing strengths in your team: Don't be so busy that you fail to recognize the strengths that exist within your team. Madam Walker tried to show Addie she could sell. If Addie had paid attention, they probably could have formed a partnership or had some form of arrangement that would have been equally beneficial to both parties. Imagine the empire they would have built. We firmly believe they could have both gone on to become the first self-made female billionaires ever recorded if only they had come together in partnership with each other.
6. Snitches & Traitors: There will always be snitches in your company. This is something you can't really control and that's why contracts, terms of service, clauses exist. Make sure your conditions of work are always clear and create clauses that protect your company from such incidents.
7. Succession plan: If you dropped dead today, would your business go on? Is there someone who can step in as a leader of the business? Madam C.J. Walker happened to be diagnosed with kidney failure at some point during her journey. Thankfully, her daughter was already versed with everything going on with the business so she was able to pick up things. Even though she struggled to let go off control fully, her daughter delivered a game-changing move – getting her products into the 10 cents store, which Madam C.J. Walker had been trying to do for years.
8. Protecting your brand name: Madam C.J. Walker borrowed the name C.J. Walker from her husband Charles Joseph Walker but no paperwork was signed. This meant she had to hold on to signing the divorce papers to get reassurance that her husband wouldn't use the brand name to sell hair products. A trademark or copyright could have protected her from needing to take such drastic actions.
9. A solid reputation is priceless: Keep working on your craft and getting better because people are always watching. There's a scene where some investors stopped Madam C.J. Walker from pitching her business further saying 'Yes, we would love to be in business with you. We've read all about you in the New York Times. Your reputation precedes you.' A lot of times, people will have heard about you or your brand; the question is what's the story that's out there? Sometimes, it's negative; other times it's positive and in some cases, there just isn't any story at all because your business isn't getting any PR or publicity. Either way, start building that reputation; it'll come in handy one day.
10. Expand your offerings: Madam C.J. Walker's business started as a cosmetics and hair care product line for black women. It soon grew into a factory and ended up being a movement for female empowerment; she even launched a convention. Never limit your offerings to just one product or service – look for ways to expand what your brand offers. In today's world, you can offer training, online courses, consultation and more so always be on the lookout for how much you can extend your brand's offerings.
11. The power of documentation: This is a bit of an aside but did you know that even though Madam C.J. Walker is recorded as the first female self-made millionaire in America; multiple sources mention that other women might have been the first but their wealth is not as well-documented. The reason we're drawing this point out is that documentation, filing your papers, paying your taxes is important. That's the difference between creating a legacy and being just another business owner.
Have you watched and did you learn anything else? Share your business lessons below; we'll love to find out what else you learnt from this inspiring limited series.