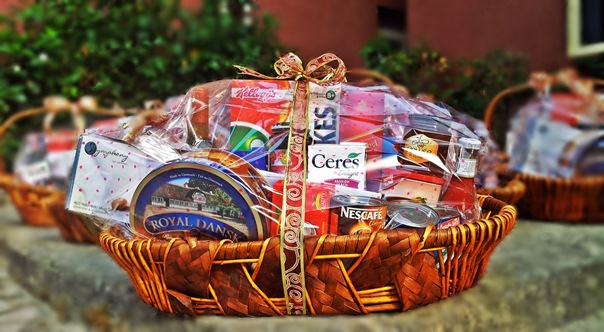 It's that time of the year!!! We call it hamper-time!!
Seriously guys, the number of hampers people distribute during Christmas/New Year makes us wonder if a 'hamper full of totally random things' is the only solution to this issue. The issue we're referring to here is making the decision on what corporate gift items to give clients this season.
You've probably received hampers, towels, pens, notepads, etc from businesses and just like the random souvenirs you get from Nigerian and African weddings,
How many of these do you use?
How many have you thrown away or given to someone else?
How many remind you of the person/company that gave you the gift?
How many make you want to patronize the company?
Exactly, so here are a few things we'll like you to think about if you'll like to give corporate gifts that will be appreciated and will also bring you some results.
1. Why do you need corporate gifts?
Corporate gifts are essential to any organisation and should be factored into your budget at the beginning of the year. It's your opportunity to say 'thank you' to clients, other stakeholders and anyone in general who has contributed to your business. It's also an opportunity for you to recruit new clients, encourage previous clients to come back again or remember you when someone they know needs the products or services you offer. Hopefully, now you see the point of having corporate gifts. Let's move on to the not so easy part – What to give?
2. What to give?
We cannot stress enough how important it is to ensure you choose gifts that complement your products or the services you offer. But also it's important to look for something that makes life easier or solves a problem.
It'd also be great if you ensure your corporate gift isn't cliche such as a hamper full of totally random items – corn flakes, honey, cashew nuts, margarine/butter, tinned milk, Bournvita, Squash, a bottle of wine/champagne, peanuts, biscuits, Indomie noodles, sweets, notepads, ankara – 6 yeards, lace – 5 yards, pens, pando yam, Omo, Ariel, starch, bleach, spray starch, plates, pots, a bottle of perfume, Maggi/Know and other totally random items. Should we go on… 🙁
We'll be here forever so let's move on…
What we're trying to say is, a makeup artist should consider gifting makeup related items such as 'makeup brush sets, beauty products, compact mirrors' and not just 'mugs, USB sticks, keyrings, etc'. In the same vein, if you're a cocktail supplier, it would be more appropriate to consider items such as wine stoppers, champagne glasses/flutes.
Here's a good example, London event design company, Anaiah Grace sent out these boxes as Christmas gifts to their brides in December 2017.
Also, think about branding, packaging and any additional stationery such as Christmas/Season's Greetings cards, notes to go with the gift(s) you send. The bottom line is, be creative and ask yourself how your gift reminds the recipient of your company. Is it something that they can keep around for a while? If not, think of something else.
3. How much should you spend?
Very important. Whilst it's great to give corporate gifts, you don't want to run out of money so make sure you don't go overboard. The simplest gifts, which are usually a lot cheaper, are usually the most impactful. However, it is important to remember who the recipient is when considering your budget but also don't forget, all you're doing is showing gratitude, you don't need to stretch your budget too much. Just have a budget and try not to go over it.
4. Who gets corporate gifts?
Now, this can be quite tricky. We would always suggest you write a list and group everyone on the list into segments. You can also consider giving different corporate gifts to different groups depending on how important they are to your business. Some of the segments to think of are;
Clients/Customers – Anyone who has purchased a product or paid for a service from your company.
Potential clients – Anyone who you believe may require your services in the new year. This could also be anyone who has made enquiries in the past year.
Partners – Any brand/company you've worked with on specific projects
Media/Press – They are very important – especially in the wedding industry. Don't forget the blogs, websites, social media platforms that have helped promote your business
There are various reasons why you may want to give corporate gifts so finding out the reason(s) would help determine who gets what.
5. When do you deliver the gifts?
A lot of companies distribute gifts over Christmas & the New Year so you'll need your gift(s) to stand out to get noticed. Its also a good idea to consider sending your gifts out of season. We've seen companies distribute corporate gifts in March just so their gifts stand out so it's worth considering.
Hopefully, by now, you've already made arrangements. If not, you're late so better get going. We would love to help you come up with suitable corporate gifts that will stand out and also achieve your desired result.
We'd love to help you come up with a detailed strategy to help you reach your customers effectively – book a marketing consultation session with one of our marketing experts today.
Picture Credit: Matsecooks.com | Nothingspecificimages.com | Entreprisenk.com